If you are looking for a place which is less commercialized and near Delhi/NCR then your search ends at Pantwari, Uttarakhand. Surrounded by the beautiful hills in Tehri Garhwal District, village Pantwari is 334.9 Km from Delhi. It will take around 8 hours to reach Pantwari. Nag tibba trek can be considered as one of the best weekend treks for beginners which starts from village Pantwari.
Nag tibba (Serpent's Peak) is the highest peak in Garhwal Division with 9,915ft from the sea level. The splendid beauty and friendly natives will add on to your experience during your stay in Patwari.
I started my trek from Pantwari, whereas there are two other ways to reach Nag tibba. The shortest one is through Patwari. The distance of Nag tibba trek from Pantwari is 7-8 km. The difficulty level of the trek is easy-moderate and steep from base camp to Nag temple and then to the top. With Gradual ascent, the trail is covered with stones. Nag tibba trek is especially recommended to the beginners who have just started trekking.
If you are traveling by your own vehicle you can save your 1.5 hours by taking your vehicle to the motorable road which will make your trek short. There is no permission required to enter forest guest house as of now. But maybe later you might have to ask for permission and pay for your stay at base camp Kathiyan which comes under forest department (according to the locals).
Nag tibba trek is open throughout the year. If you are doing for the first time it's better to take a guide who can help and suggest the best ways. I was lucky enough to experience nag tibba snow trek on January 26th long weekend in 2018. By taking full advantage of long weekend me and travel bug infected friends planned the trek to nag tibba.
Itinerary of Nag tibba trek from Delhi
Day 1: left Delhi on Thursday night and reaches Pantwari on next day around 11:00 Am. Because of the fog, we took more stops than usual.
Day 2: We have to set up everything as nothing was preplanned. There are no such hotels at Pantwari, so we have to look out for homestays and people providing rooms on rent. No big shops, just a few providing things of daily necessities. After of a lot of hunts, we were managed to get room to spend our day 2 night. All the camps, food and rest of the things were taken care by the same vendor. Due to our odd timings, day two was wasted.
View from our room in Pantwari.
If you guys are planning to leave for Pantwari on Friday or any other day of your choice so make sure you leave the place by maximum 9:00 PM in the evening so you can start your trek on time the other day.
Day 3: We started our trek late and reached the base camp in 3-4 hours. Had our lunch and we were having rest of the evening to enjoy the sunset and bonfire.
Camping in Kathiyan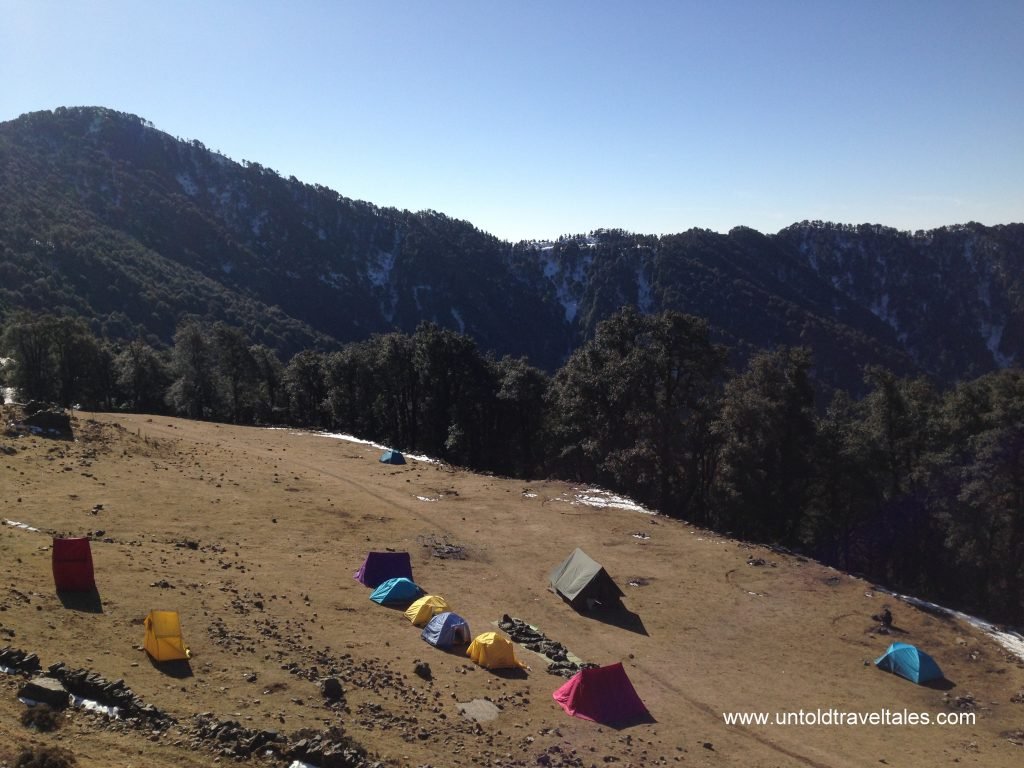 Day 4: And again we were late. We were supposed to start our trek at 5:00 Am in the morning but we wake up at 6.00am. Can't blame the beauty of the mountains to wake us up all the night.
Expectation Vs Reality
Expectation: Day 1 Travel in the night to reach Pantwari Start the trek on Day 2, Day 3 return to pantwari. Back to home by Day 4. This is an ideal schedule one should follow.
What really happened: Day 2 at Pantwari, Day 3 base camp khatiyan, Day 4 to the summit.
Nag tibba trek view
From Pantwari to Nag Tibba Trek, nature will not miss a chance to surprise you. The base camp Khatiyan provides a spectacular view of mountains, ranges and a must watch sunset and sunrise.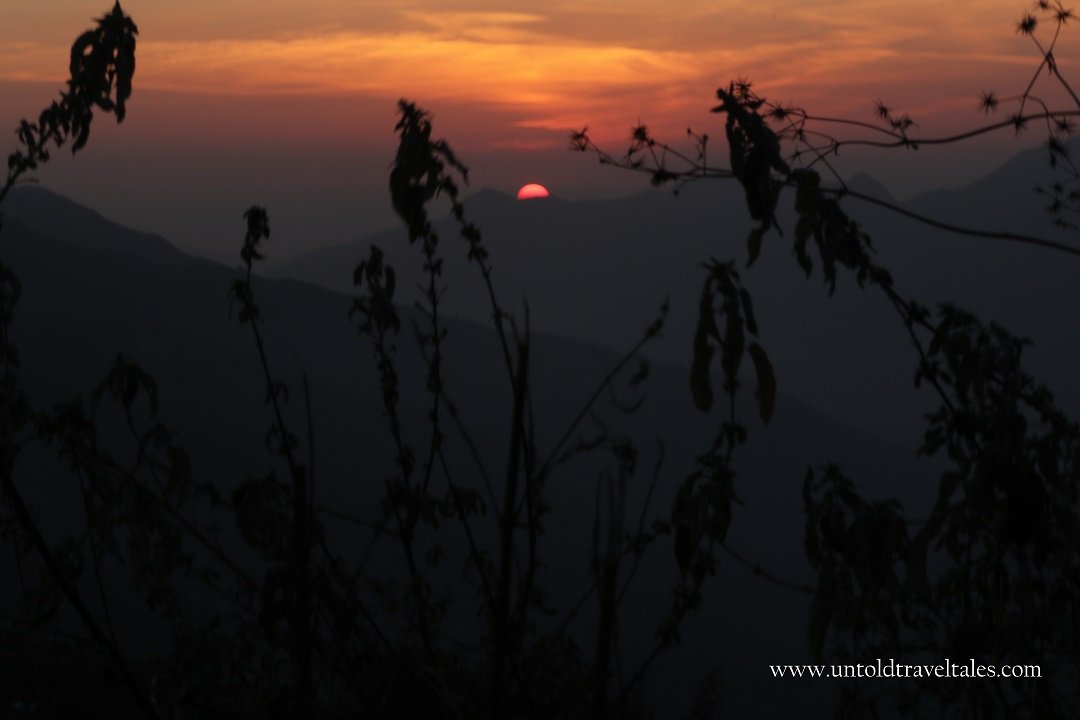 Nag Tibba weather conditions
The temperature could fall from 5 degrees to -8 degrees. Sudden rainfall/snowfall can decline the temperature further. Pantwari is also quite chilly in the evening and morning, katabatic winds can even freeze your bones. So carry enough clothes to cover yourself.
Things you need to carry on the trek
Have listed down some of the points you must take along on the trek
Carry your own water bottles as there are only 2 stops on the entire trek where you can find drinking water. One is before the base camp and the second one is at the base camp Khatiyan. Take along your spare bottles and don't miss a chance to fill it.

Carry ready to eat food fruits, energy drinks, and other edibles. You will not get anything to eat on the trek. As it is less commercialized and has no shops on the trail. Also if you are planning to stay at base camp, make sure you hire someone from Pantwari who can cook for you at the camp.

Warm and Waterproof clothes To save yourself from cold breeze carry some warm clothes. If you are planning to do a snow trek make sure you are carrying waterproof clothes and proper trekking shoes. To protect yourself from getting wet.

Carry extra batteries and power bank as you?ll not get the electric connection throughout the trek.

Other miscellaneous items like sanitizer, medical kit, toilet paper are something you should carry on the trek to nag tibba.
Why you should experience Nag tibba Winter Trek
December-January is the desired time if you want to experience nag tibba snow trek. I have had visited Nag tibba on January 26th, 2018 and trust me there is nothing best like mountains covered with snow.
This video can explain it better, How snow-capped mountains looks
In winters the trail turned white with at least 2fts of snow and that will double the fun and thrill of your trek. The cold breeze will make you shiver but not more than the view. You can make a snow man, have snow fight, roll in the snow and let your inner kid come out.
How to reach Nag Tibba
There is no direct way to reach Pantwari (from where the trek starts) either you have to take a bus or a taxi from Dehradun or from Mussoorie. The distance from Mussoorie to Pantwari is approximately 56.3km and Dehradun to Pantwari is nearby 90 Kms.
It can be considered as one of the best weekend treks near Mussoorie. Pantwari is a place like you have never seen or visited before. A small village with not more than 50 houses. People there, are always ready to help without expecting anything in return which is a rare case these days. Small shops selling daily needs will be perfect to seek help from. If you are looking to eat non-veg in Pantwari so please note there is only one shop who sells home cook meat, that tastes absolutely amazing. As people living in Pantwari mostly avoid consumption of meat and Alcohol so you will not find any related shop there.
Budget: As I was traveling in a group, per person we have spent Rs 3500 Approx for the entire trip. The cost was inclusive of transportation, trekking, camping and food for 3 days.
Refer link for other weekend trek near Delhi/NCR.
Keep Travelling