Parashar Lake Trek, a beautiful and religious place surrounded by Dhauladhar ranges in Himachal Pradesh. The lake is located at a height of 2730mtr, It is said that Rishi Parashar used to meditate here. There is an island in the lake, which rotates and changes its position. The place is also famous for three stories Pagoda style Temple made with Deodar woods in the 13th Century. A historical and religious place in the mountains. So if you are looking for a Best Beginners Trek in Himachal Pradesh or the perfect place to visit in Himachal Pradesh, Parashar Lake is one of the best options.
Read More: Places to visit in Himachal Pradesh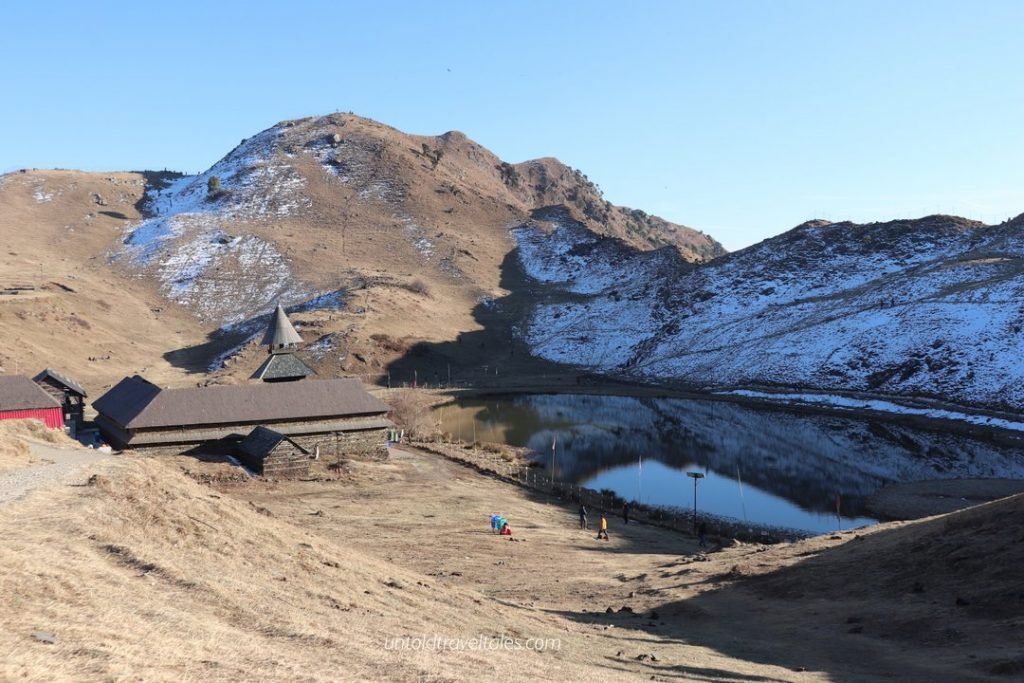 Parashar Lake Trek- A perfect beginner Trek in Himachal Pradesh
How to Reach Parashar Lake from Delhi
Journey matters as much as the destination. The first thing first Grab the window seat 🙂 so you can enjoy the views. If you love having road trips or driving in the mountains you love this trip too. 
To Reach Parashar Lake, first, you have to reach Delhi. From Delhi take a Volvo or rent a cab till Kullu. Delhi to Kullu is approx 490km, it can take up to 13hrs or more to reach Kullu. Depends upon the halt you take and traffic on road during the journey.  Stay overnight in Kullu valley and the next morning continue your journey to Parashar Lake.
Distance from Delhi to Kullu-  489.90Kms
Time to reach Delhi to Kullu- 13hrs ( May vary)
Distance of Kullu, Village Bajaura to Parashar Lake Trek Parking- 48.7kms
Time to reach Parashar Lake from Bajaura- 2 Hrs ( May vary)
OR
There are two ways to do Prashar Lake Trek. One I have already explained above and the second Is via Mandi. 
From Delhi, via Pinjore/Karnal follow the route to Mandi. Stay overnight in Mandi and next morning continue your journey towards Parashar Lake via Baggi Village. 
Distance from Delhi to Mandi- 423 km ( approx)
Time to reach Delhi to Mandi- 13hrs ( May vary)
Distance of Mandi to Parashar Lake Trek Parking- 66km
Time to reach Parashar Lake from Bajaura- 2 hrs (May vary)
Watch Complete Video – Delhi to Parashar Lake Itinneary explained
Both routes are the same, it's your choice where you want to stay, in mandi or in Kullu. Distance from Mandi(Baggi Village) or Kullu Valley to Prashar Lake is almost the same. 
1- Stay at Village Bajaura(Kullu) and begin your journey on the second day to Parashar Lake which is 49kms from Bajaura village.
2- Stay in Mandi, and visit Parashar Lake on the second day.
My trip to Parashar Lake itinerary was from Delhi – Village Bajaura in Kullu – Prashar Lake and back to Bajaura.
Where to Stay Parashar Lake Trek
There are various options to stay near Parashar Lake trek, and if you like to explore the beauty of Dhauladhar ranges at its best I would prefer you to choose any one of the below-mentioned options.
1- Stay in Camps at Parashar Lake– If you haven't slept under the stars and enjoyed bonfire trust me you are missing big. But it's better late than never, at Parashar Lake you can stay overnight in camps and enjoy 360-degree views. You can either pre-book your camps or can also book at Parashar Lake, there are shopkeeper and vendor who provides camps on rent. But the situation varies according to the number of tourists if you are going in a peak season or due to unpredictable weather. 
2- Stay at the Guest House near Parashar Lake Parking– You will see a big cottage having a green top that's the only cottage available near Parashar lake parking. If you want to stay here, sharing the contact number below, you can reach out to him for advance bookings. A tip negotiates hard. 
Name- Hem Singh
Contact Number: 8219775133
Parashar Lake trek Itinerary
Day 1 Departure from Delhi – Day 2 Reach Kullu (Night Stay in Bajaura)- Day 3 Departure from Bajaura village to Parashar Lake- Stay in camps at Parashar lake/cottage or back to Bajaura village.  
Weather at Parashar Lake | Best Time to Visit Parashar Lake 
The weather in the mountains is unpredictable. Parashar Lake is slightly cold always due to its high altitude. The temperature at Parashar Lake dips down in the evening with the chill breeze. 
Parashar Lake in winter- If you love snow, and want to see mountains peaks covered in snow and experience snow trekking then definitely choose winters. Preferably December onwards till mid-March. Remember in winters, the path is covered with snow so you can take your vehicle until the drivable point rest you have to trek.

Parashar Lake in summers- 

If you want to see lush green peaks and are not a big fan of chilly weather, Parashar Lake is open for you throughout the year. April- onwards is good to go, just avoid monsoon time. See the forecast before you plan your visit to Parashar Lake Trek. 
Eat at Parashar Lake Trek
There are a few food stalls near Parashar lake, which serve snacks and packed food too. So grabbing something to eat is not a problem.
What to Pack for Parashar Lake trek
Winters can be harsh in the mountains so don't go unprepared. below are the things you should carry if you are planning to do Parashar Lake trek in winter.
Wind Proof and a warm jacket-

Trekking shoes/Snow Boots-

Woolen Cap and Gluvws

Bandana- It will be very helpful to protect your face and head from the chilly breeze. 
I hope this blog will help you to plan your Parashar Lake Trek, in case you have any questions feel free to comment and share. I will be happy to Help.
*Please take care of Covid 19 Precautions and do not litter. Do your bit in keeping nature clean.