Delhi to Shimla Train is one of the easiest and cheapest ways to reach Shimla in a day. SHIMLA: A small and beautiful town in Himachal Pradesh also known as Queen of Hills. It is also one of the preferred places for summer vacations in India. The town has a history of the British era, historical monuments, and well known for its Victorian Architecture. If you are planning to Reach Shimla by Train here are some helpful things you should know beforehand, which will help you to plan your journey at the lowest cost.
Delhi to Shimla Train Route
The most beautiful train journey in the hills of North India. Delhi to Shimla distance is 342 km and one of the best and cheap ways to reach Delhi to Shimla is by train. There is no direct train between Delhi to Shimla, you have to reach Kalka and change the train to Shimla.
Reach Delhi to Kalka
To reach Shimla you have to first reach Kalka a town in the Panchkula district of Haryana. From Kalka to Shimla distance is only 86Km (approx) and the toy train trail is 96kms.
How to reach Kalka from Delhi?
Kalka Mail runs 7 days a week from Delhi to Kalka. It is a passenger train which needs no pre-bookings.
Delhi to Kalka Travel Time: 8 Hrs
Delhi to Kalka Fare: INR 60
If you want to reduce travel time, go from Delhi to Kalka Shatabdi.
Delhi to Kalka Travel Time: 4 Hrs
Delhi to Kalka Shatabdi Fare: INR 1100 (Aprx.)
Kalka to Shimla Toy Train
Toy train connects the plains to the 'queen of hills, Shimla. Kalka- Shimla Railway line was build in 1903 during the British era. This route has 102 tunnels, 864 bridges, 919 staggering curves, and 18 stations.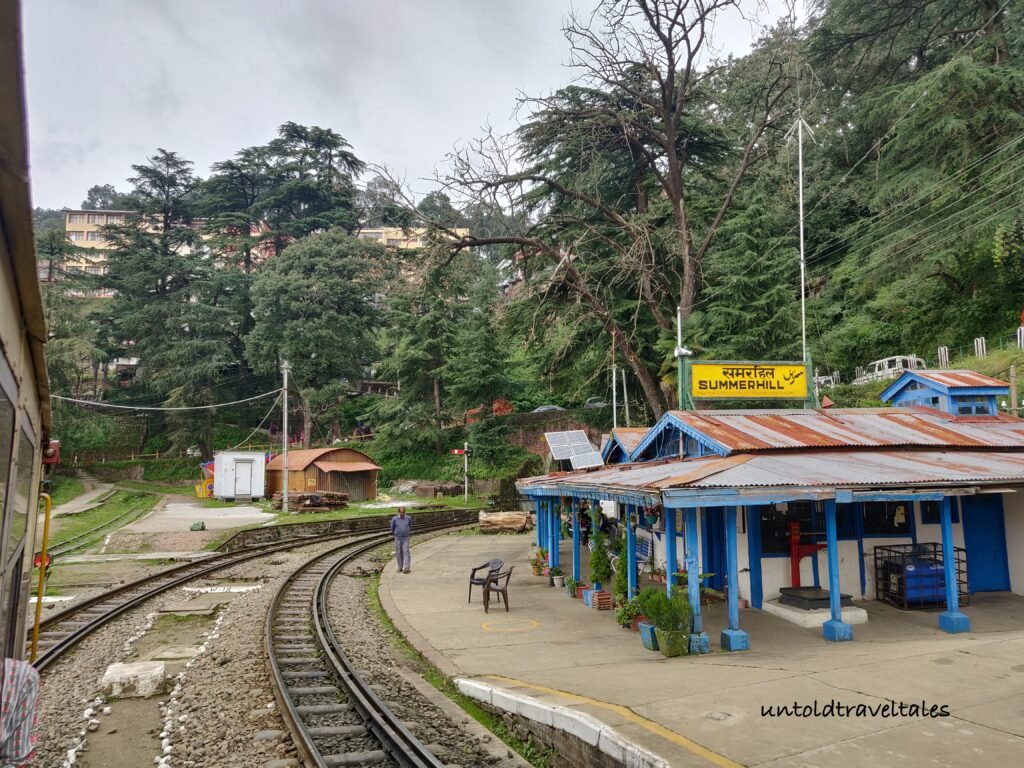 A jaw-dropping journey of 96kms on a narrow gauge in the mountains is said to be one of the most beautiful train journeys in India. The route treats passengers with breathtaking mountain views, valleys, small towns, lush pine forests, and picture-perfect hills will not let your eyes blink for a second. The whole journey takes around 5-6 hours. Some of the stations also have a tea and snack stall to grab a bite from.
Kalka Shimla Toy Train Fare
Kalka-Shimla Toy Train will allow you to see mesmerizing sites and view that you would have never witnessed. Shimla Toy Train also has different types of Rails some are luxury for which you have to make pre-bookings and there are passenger trains that run daily as a common means of transportation between many of the hamlet which connects Shimla and Kalka.
Toy Train from Shimla to Kalka and their approx price range.
Shivalik Deluxe – 500 Rs
Rail Motor – 300 Rs
Himalayan Queen – Rs 260
Shimla Kalka Express – Rs 70
The price range mentioned above is for chair cars, prices may vary.
Kalka Shimla Himalayan Queen Fare, Time and Distance
The ride from Shimla to Kalka in Toy Train was one of my best and unforgettable train journeys. I have never seen such cute, small, and neat railways stations in the mountains. Himalayan Queen has 1-2 general coaches for which tickets can be directly purchased from the ticket counter at Railway Station. Females get a special discount on Toy Trains and Himalayan Queen has a separate bogie only for ladies. The train departs on time and takes multiple stops.
Shimla to Kalka Himalayan Queen Fare is only 25Rs for a lady (Special Discount for Females).
Duration of the journey 5-6 Hrs.
Departure time from Shimla: 12:10 and reach Kalka 16:30 to 17:00
Passengers can pre-book seats for other Deluxe trains Rail Motor,?Shivalik Express and Himalayan Queen having amenities like cushioned seats, food, and music. One can soak up the magnificent views from the wide-glass windows as there are no stops in between. Bookings can be done from irctc.co.in.
Valley falls on the right-hand side if you are coming from Kalka to Shimla so now you know where to sit to have the best view.
Kalka Shimla Toy Train Q&A
How to reach Kalka to Shimla at the lowest price
Reach Kalka Railway station and buy tickets for Kalka Shimla passenger Toy Train Tickets Starting Rs 25.
How to pre-book Kalka Shimla Toy Train Tickets
You can advance book your tickets from IRCTC official site. Book your tickets at least a month before.
Kalka to Shimla Toy Train Journey Duration
The duration of journey vary from 5-7 hrs
Best time to experience Kalka Shimla Toy Train
If you want to see the valley covered in snow book your tickets for January. And if you are not a fan of winters but also hate summers go for September-October.
I hope the information is helpful to plan your next trip to Shimla. Share your first Toy Train experience with me in the comments below.
Happy Traveling !!
*Please Note: The details are purely based on personal experience. Train timings and prices may differ depending on the weather conditions.