So what?s the plan for coming long weekend?
No plans yet???
Let me help you to make one. Why don?t you plan a long weekend to Mcleodganj? As it is one of the best places from the list of places to visit in Dharamshala in Himachal Pradesh. I know I know? The place is crowded and lots of tourists from across the globe visit there, some have made Mcleodganj their home and rest are travelers or tourist. So here are the details of places to visit near Dharamshala, Mcleodganj
Mcleodganj is located near Dharamshala in Kangra District Himachal Pradesh. Due to a large population of Tibetans, it is also called ?little Lhasa or Dhasa?. Mcleodganj, Dharamshala is 477Km from Delhi and it will take approximately 8 hours to reach through NH- 44 or NH-503. The nearest airport is in District Kangra If you are planning to fly till there.
In February first week 2017 I had visited Mcleodganj and Dharamshala, it was a last minute plan so have not made any advance bookings. Booked a car from an e-commerce platform. It was a chilled night and unfortunately, our car heater stopped working (Muft Gyan: while hiring a car from any renting website or app, check if it functioning fine).? Do a test drive before accepting the key from the owner so they cannot blame you for any damage afterward.
It started raining heavily when we were on Nh-44 (which is also known as Sonipat highway and famous for DhabaAmritSukhdev) to Mcleodganj. No Heater, Peak winters, and rain, what a kick start to the trip.
After struggling a lot, finally, we reached Mcleodganj about half-past eleven and without wasting more time started to search for a hotel who can give us a cheap stay. Got a room without any hassle maybe because it was an offseason. Fixed the deal for Rs 1000 per room with separate balcony. After taking some rest we stepped out it was already half past four. Hardly a few hours left on Day 1 so we choose to spend our evening exploring cafes of Mcleodganj. There are many places to visit near Dharamshala, Mcleodganj all you need is time to explore them.?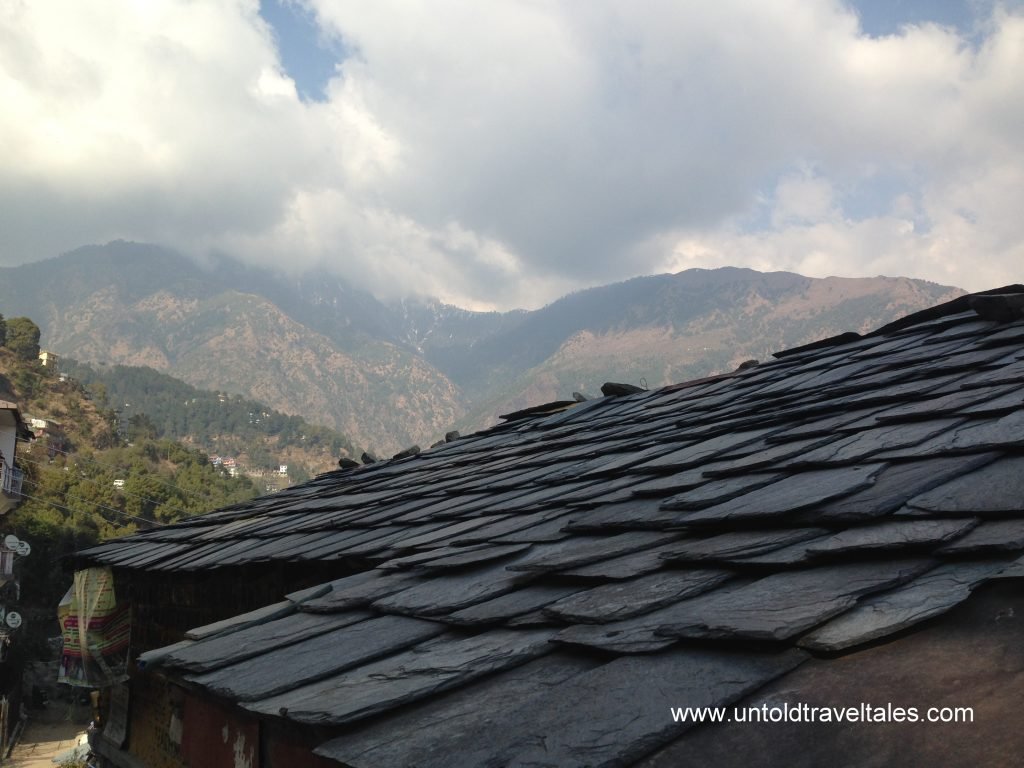 Day 2: was reserved for Triund, it is a small hill situated on the lap Dhauladhar Mountains on the one side and Kangra valley on the other. It is a very popular trekking spot and one of the easiest trek. But due to heavy rainfall Triund trek was closed for the trekkers.
Best time to visit Triund is anytime expect January and February. So yes we missed it but enjoyed the beautiful mountains of Dharamshala as every mountain is different, every road has its own story, every monument has their own history of love and sacrifices.
Places we have visited on the second day
Bhagsunath Temple
Bhagsu Falls
Shiva Caf?
Bhagsunath temple
You can ask for the way after reaching Mcleodganj main market. In order to reach Bhagsu Falls, you have to trek a little from Bhagsunath temple. A small fall surrounded by solid rock and mountains, besides you can find a food stall where Maggi and hot tea can be enjoyed with a beautiful sunset.
Shiva caf?
is near Bhagsunath fall. Trek a little more from the arrow sign marked on the corner of a mountain with white paint. Shiva caf? is a vintage style caf? with low floor sitting arrangement and can be considered the best point for watching sunrise and sunset.
The food was fine including veg pakoras, hot coffee but do not try the banana pie. The cold breeze will make you shiver even in the daylight so make sure you pack yourself with warm clothes.
Day 3 was scheduled for
Monastery?s
The Dalai Lama Temple (Tsug la Khang)
Kalachakra Temple
The famous Tibet mall road in Mcleodganj
Cricket stadium in Dharamshala
Plenty of things were there to explore on the third and the last day of our trip. We did Checkout in the early morning and went for Kalachakra Temple which is near Mcleodganj Mall road. The second most famous thing in Mcleodganj is The Dalai Lama Temple.
Tibet markets have the best collection and they have their own trends. You can shop for accessories, cream perfume, warm clothes etc. You need at least 4-5 hours to explore the mall road.
After searching the entire market I have found below shop having the best collection of all type of accessories, handbags clutches. It is very hard to bargain in Tibetan markets but does try your best.
We have kept Himachal Pradesh Cricket Association (HPCA) more known as Dharamshala Cricket Stadium for the last day. A stadium close by 6:00 pm in the evening for visitors hence you have to visit before 6:00 pm if you want to enjoy the view properly.
This is how our trip ends, expenses were 6500-7000 per person when traveling from a rented car, food and shopping is the little bit expensive but that is something you must try. Street food is icing on cake specially Momos which you can find at every corner. You can make new friends as it is a hub of tourist from the globe.