Tungnath Chandrashila Trek named on the highest Shiva Temple Tungnath, at an altitude of 3680 Mtrs and also one of the best winter treks for beginners. Tungnath is one of the Panch(5) Kedar temples following by Madhmaheshwar, Rudranath, and Kalpnath with Kedarnath.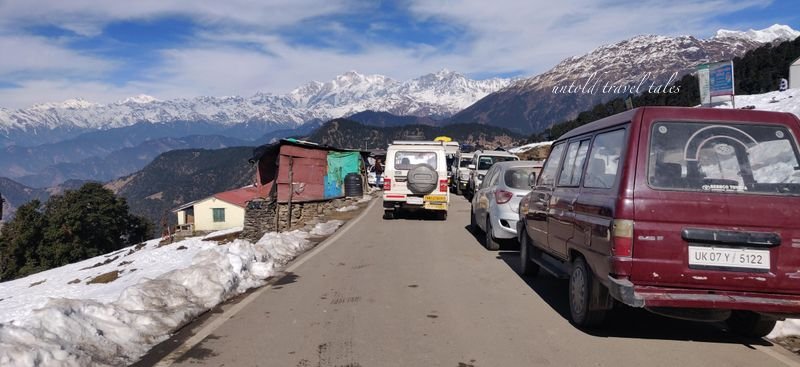 Delhi to Haridwar: Haridwar is well connected to major Indian cities through buses and trains.
Haridwar to Sari Village: Local taxis and buses are available from here to Sari Village/Chopta. Approximately 212 km, 8 hr long drive.
Sari Village to Chopta: 1-1.5 Hrs drive from Sari village to Chopta
Chopta to Tungnath Chandrashila: Tungnath with an altitude of 3680Mtrs approximately 3.5 km from Chopta and Chandrashila is at 4000Mtrs height and is 1.5km approx from Tungnath which makes it a 5km trek overall. Chopta is the base camp for Tungnath Chandrashila Trek.
A surreal view covered in snow, cold breeze doing the talkings, trees covered in snow and tall peaks standing strong. Chopta- Tungnath- Chandrashila is becoming one of the most favorable treks for beginners. The trek is not that difficult but the adventure adds up if you plan it in winters. During the heavy snowfalls, the place also gets prohibited to visit for Travellers.
Tungnath Chandrashila Trek with Deoria Tal, 4-5 Day Itinerary
Day 1: Delhi to Chopta

Leave for Rishikesh, Rudraprayag. If you are traveling from your vehicle, then the route will be straight from Delhi via Nh1 to Rishikesh. From Rishikesh, you have to take the Char Dham route.
If you are traveling from Public Transport then you have to reach Rishikesh first and take a taxi to reach Chopta or Sari village.
Day 2: Sari Village from Haridwar
Reach your GuestHouse and relax. It is a minimum 13-14 hrs journey (Depending on the breaks you take) from Delhi to Chopta/SariVillage. So if you will leave in the evening, next post noon you will be able to reach.
Where To Stay Sari Village – Chopta
There are many villages you will come across while reaching Chopta. Sari Village is one of the beautiful among all, also base camp for Deoria Tal Trek which is 2.5 km from Sari Village. You can either reach straight to Chopta or take a stay in any of the villages on the way which offers Guesthouses and Homestay options.
Chopta is a village that is a base camp for Tungnath Chandrashilla Trek. A place you can witness snow even in summers and in winters the place may chill your bones. You can find some local shops here for buying and renting trekking gears and snacks to grab along. Chopta is a small region that comes under the Kedarnath wildlife sanctuary range and is also a base of Tungnath trek.
Sari Gaon or Sari Village gives majestic views to soak in. A place has few houses, sleeps early and has few local shops and a Cafe named Nirvana.? The only cafe during my visit in late December 2019. Chopta is only one hour's drive from Sari when Chopta is closed due to heavy snowfall you can stay in Sari Village.
*Chopta weather will be cold as compared to Sari Village. Overnight stay is available in Chopta but only in camps. At extreme temperatures, many prefer to stay in a Sari Village or nearby villages.
Day 3: Chopta to Tungnath Trek Chandrashila Peak and back to Chopta
Chopta is the base camp for the trek if you are not having proper gear to hike up you can rent it from the local shops. During my visit in the last week of December 2019, It snowed heavily in the week before I visit.
Time to trek to Tungnath is 3-4 hours another 1-hour trek up to reach Chandrashila peak. You have to get down on the same day as there is no place to stay or camping in Tungnath Chandrashila trek. Except for one tea stall in mid of the trek, you will not find anything. Tungnath and Chandrashila trek is considered one of the famous winter treks for beginners. Because of its moderate difficulty level and 360 tall standing mountain views, it is becoming trekkers' choice.
?Things to keep in mind while trekking Tungnath Chandrashila trek
Keep your backpack as light as possible, carry some ready to eat food, water bottle, some nuts, healthy bars, and an extra pair of hand gloves if you are planning to make a snowman.

Snowproof shoes are a must for winter trek to Tungnath if you are not having one than rent one from local shops in Chopta.

Wear good warm clothes, warmers, jackets, cap. Gradually the speed of the wind will increase and at the Tungnath Temple, you will feel the real chills.

If there is snow on the beginning of the path which is black ice, Spikes would be highly recommended. Because while trekking down you will not be able to walk on it, rather slip or fall.</p?

Checking will be done by the forest department at the starting of the trek. To make sure you will bring all the wrappers back with you.
Due to heavy snow accumulation in Chandrashila, the trek was closed so we came back from Tungnath Temple. I was there in Tungnath Trek on 31st, December 2019 to experience snow trek to Tungnath Temple. The snow increases as we move forward. Till my eyes can see everything was covered in snow and the view was becoming exquisite.
We reached Tungnath Temple at around 2:00 Pm when we started our trek around 11:00 Am after taking many photo breaks. The temple was covered in snow and it was all white and freezing.
We started our trek down at around 3:00 Pm. In the mountains, the sun sets early around 5-5:30 PM. We were on the way and it started getting dark, but the sunset view was looking magnificent. It was risky to trek down in the dark, but everyone on the way guided each other the path.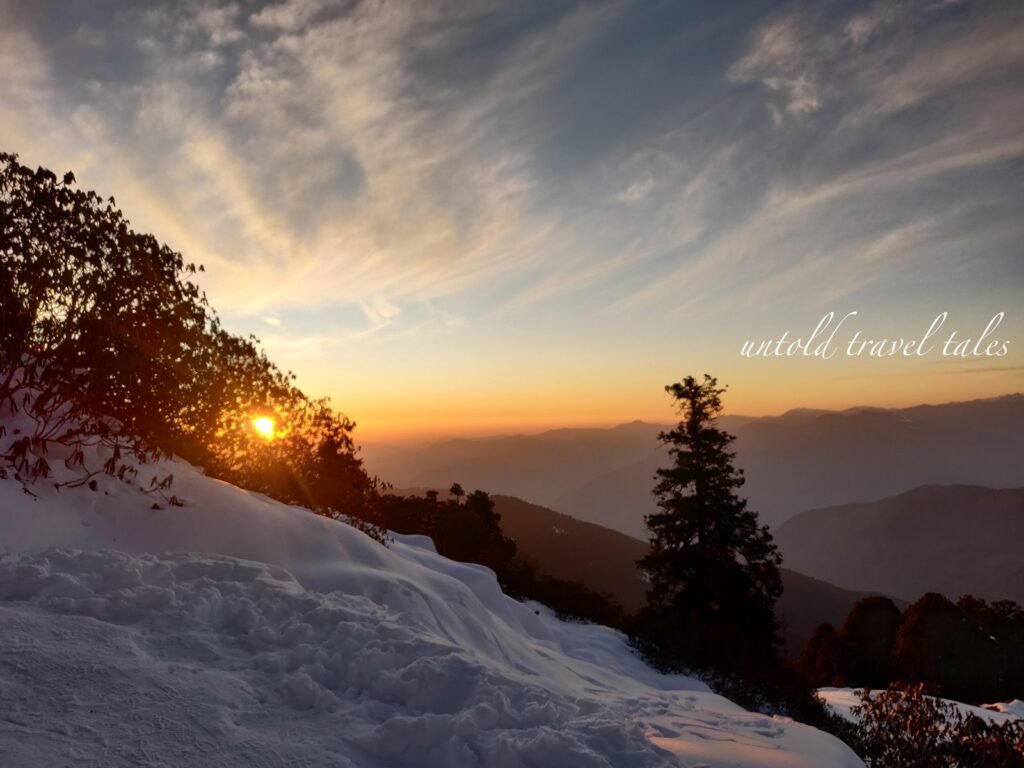 Around 6:30 Pm we reached Chopta, returned our wooden sticks and sipped hot tea. It was very windy that day, the cold breeze was making me shiver. Our tempo traveler was waiting for us with other co-travelers, we were staying in a guest house near Sari Village. It was a new year eve night, our guesthouse was all decked up with lights and DJ was testing songs. The born fire that day was the savior. The place we were staying was not that chilly.
Day 4: Sari to?Deoria Tal Lake Trek
Deoria Tal, A beautiful Lake Trek in Ukimath, Rudraprayag Uttarakhand. It is a 2.5km trek from Sari Village to Deoria Tal and followed by a Jungle trail. You can choose the already constructed path to hike or climb up by taking short cuts via Jungle trek. During my visit to Deoria Tal lake on 31st December 2019, there was only snow near the lake and the path was clear.
Deoria Tal is located in the Nanda Devi Biodiversity Park. Deoria Tal offers a splendid view of Chopta, Tungnath and Chandrashila peak to the right and view of mountains like Chaukhamba, Nilkantha, Bandarpunch, Kedar Range, Kalanag to the left.
Previously one can do camping near the lake, because of the increased footfall of the tourists and their irresponsible acts have forced the forest department to shut down the campaigning. You will find many Maggi stops in between and some local shops having 'Malta' English name blood orange.
Sunsets are always my favorite to witness the same I paused while trekking down on a point from where the view was bright and clear. You know that's the beauty of mountains, they will make you fall in love with them with yourself.
Frequently Asked Question about Tungnath Chandrashila Trek and Deoria Tal
Q. Chopta has Homestays or stays facilities?
?A.?Chopta has facilities to stay but only in camps.?
Q. Does Sari Village have Hotels or Homestays?
?A. Yes, Sari village does have options for Homestays and guesthouses.?
Q. Where to stay during Tungnath Trek?
?A.?You can choose to stay at Sari Village or at Chopta, there are many other small villages before Sari Village where you can stay.??
Q. Is camping at Deoria Tal possible?
?A. As of now, Camping at Deoria Tal is banned by Forest Department for a time being.
I hope this article will help you to plan your next trip to Chopta- Tungnath- Chandrashila trek. Put your questions in the comment box and I will get back to you with the replies.