Everything you need to know about Kasol and Trek to Kheerganga (Khirganga)
Mountains- Tall creature?s standing straight against the sky, fearless with altitude high. Escape the boundaries of a mundane life.
I can feel the presence of God on earth when I am near the mountains, total peace and greenery all around. Far away from the city chaos, place where nobody is jealous of you, less populated and where nobody knows you. I travel to search the meaning of life away from hustle and bustle. I travel to free myself just like a bird who wants to fly above the mountains. Last year in October-end, I planned a trip of 4 days to kasol and a trek to kheerganga.
According to Google kasol is 517 km approx from Delhi and takes 11 hours to reach the beautiful Himachal Pradesh. But actually it takes 13hours to reach kasol, it could be even more if the roads are busy. The duration also depends upon the breaks you take during the journey. We have started from Delhi to kasol via NH 44 (Attractions on the way- Sukhdev ka Dhaba, Sonipat Highway).
Kasol is a village which is now transforming into a hub with increased tourist demand, situated in district Kullu Himachal Pradesh, Northern India. kasol and kheerganga/Khirganga is situated on the banks of Parvati river. Kasol is 31.2km from bhuntar if you are going by Volvo or roadways you have to take a bus or taxi from bhuntar. It is located 42 km east of Kullu and at a height of 1640 meters. Kasol is further divided into old kasol and New Kasol with a bridge.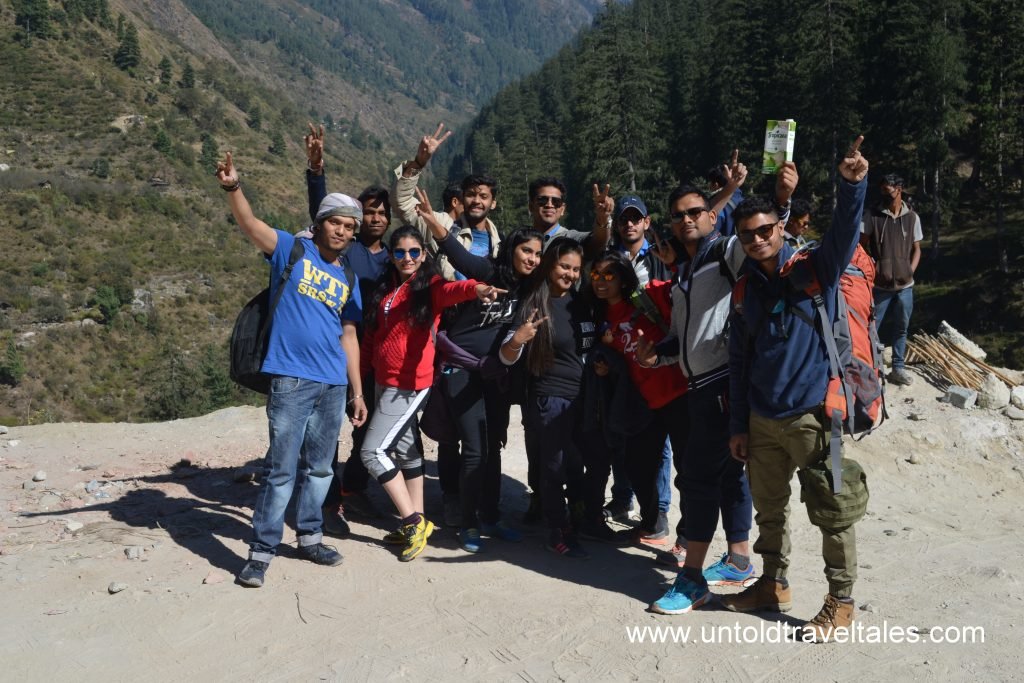 If you are visiting kasol there are several options you can explore
Things to do in Kasol
1.Trek to kheerganga
2. A stay in tosh
3. Home stay in Kasol
4. Enjoy hot water spring in Manikaran sahib
5. Bon-fire by the Parvati River
6. Relax and enjoy cuisine in Israeli caf?s.
You need at least 4 days if you want to explore tosh or trek to Kheerganga near kasol. Temperature is good throughout the year around 9-10 degrees in the night during September-October.
The itinerary I had followed. It was divided according to 4 days and 3 nights
Day 1: We have left from Delhi/NCR to kasol in midnight and it took approx 13 hours to reach Kasol which includes all the breaks we have taken during the journey. Bookings were done in advance, so we straight away headed towards our room to take some rest after a long journey. Dinner was planned near river bank of Parvati valley. See the picture below, we went there in the night around 9:00 PM. To reach the destination you have to cross a wooden bridge. The view looks spectacular in the night, you can hear the sound of running water and the sky full of stars where you are crossing a wobbly bridge. I really can?t explain how beautiful it looks and how amazing it feels. It was a walking distance from our ?Hotel Blue Diamond?, you can ask any localities for this place.
Day 2: was dedicated for the trek to kheerganga. So as planned we have to leave early for the trek. Trek to Kheerganga is a 9 km moderate trek with four-hour steep climb on narrow and tricky trails. This is a beginner trek to start with. It will take 7 hours to reach the top and it also depends on the speed and the breaks you take during the trek. We started our trek from barsheni.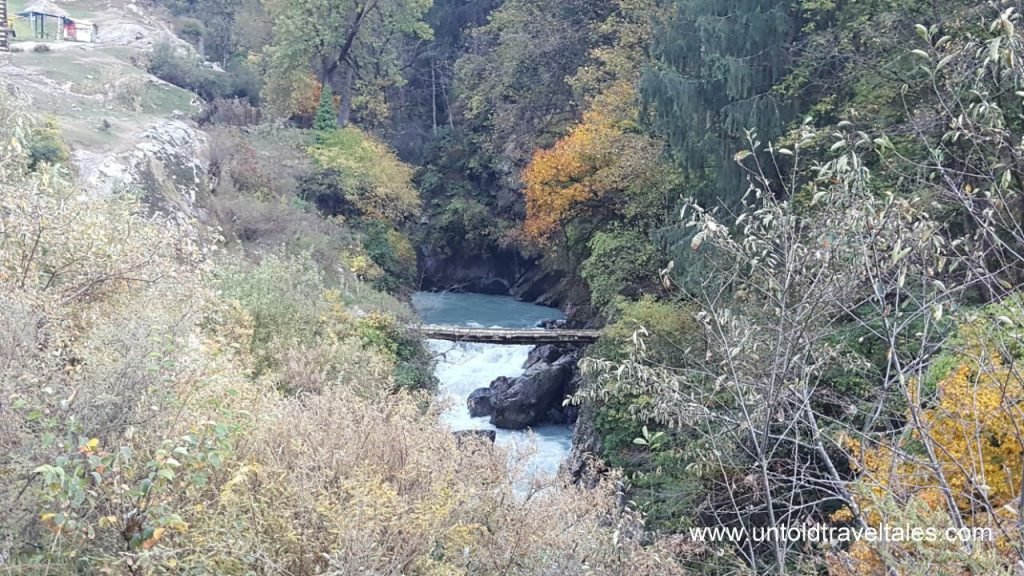 As we have started late around 11:00 Am on the day second we reached kheerganga in the night. Enjoyed the second night in Kheerganga with a bonfire, amazing food, soothing songs, shooting stars and milky view. I have never seen such view before the big moon and milky way. It was so white, wide and clear from a height of 2960m. The feeling was beautiful and I have never felt like this before. I gazed the view till 4:00 Am in the night or can say morning and then went in our tents to sleep because we were hell tired and the very next morning we have to trek down.
Camping at Kheerganga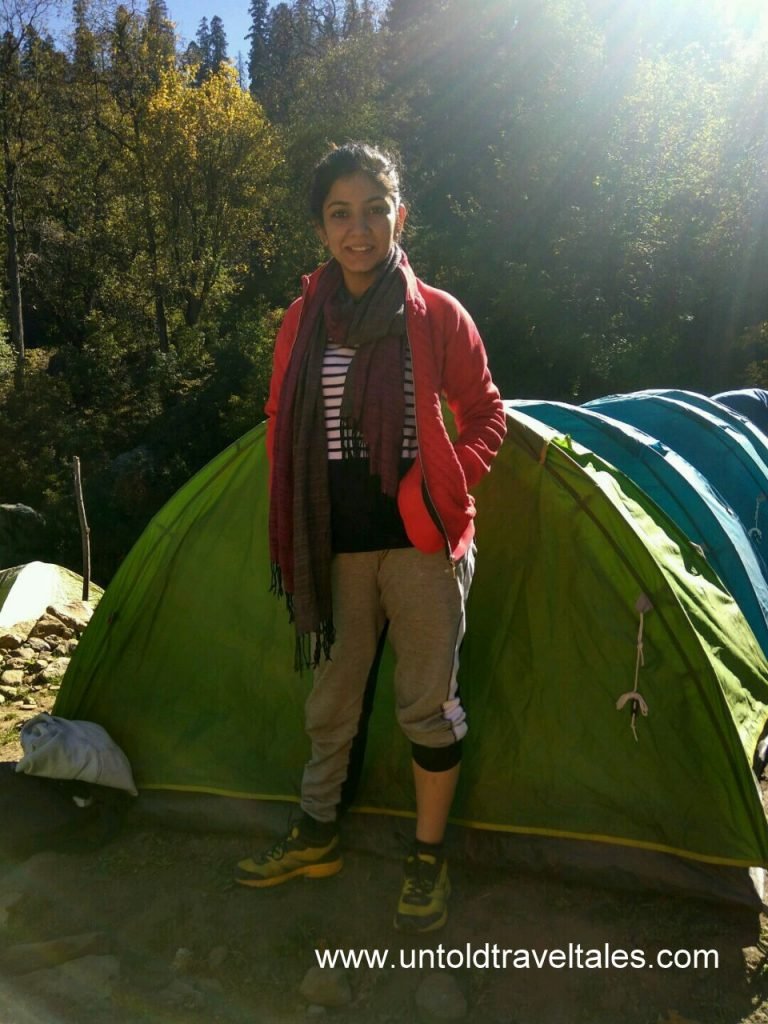 Day 3: Today the first thing in our schedule was to take a dip in hot water springs of kheerganga. So we wake up between 7-8 am had amazing aloo parantha?s in breakfast and headed towards Parvati temple. In Kheerganga, you can also enjoy hot water springs. There is a temple of Goddess ?Partvati? along that there are two hot water spring ponds one for males and another for females. That is the end of kheerganga. You have to trek a little more to reach the temple and on way you can find some beautiful cafe's and cannabis farming.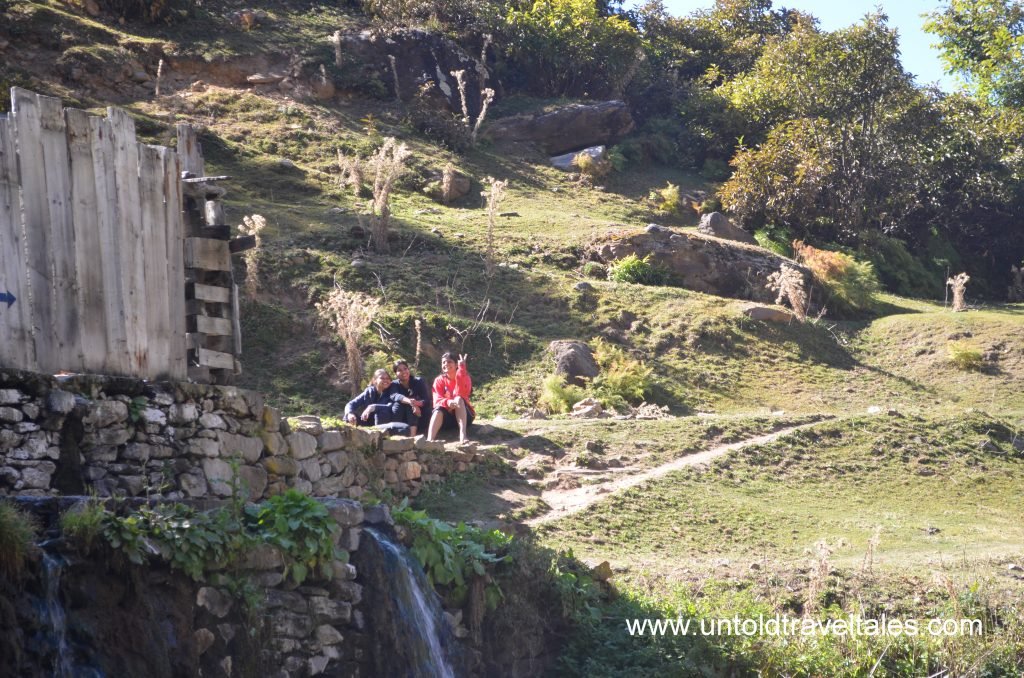 Hot Water Spring at Kheerganga
It was such a fun that we have spent almost two hours just relaxing in the hot spring. And we got late, it was a quarter to 12 and we have had yet not started to walk down. It was thrill to walk down the narrow, slippery path in the night but we made it somehow. But I would not suggest it to trek inthe night. Our bus was waiting at the point we started our trek from.
Trekking down from Kheerganga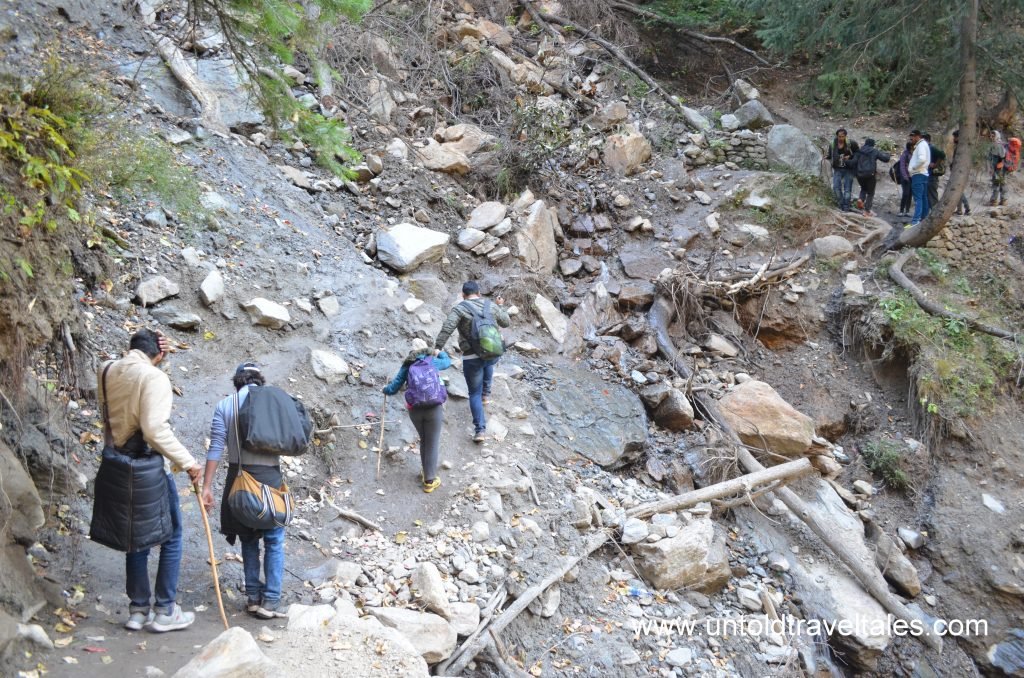 The same night after finishing the trek we had planned to visit Gurudwara Manikaran Sahib. The divine place where I feel complete. We were lucky as we reached at the time of ?langar?. For those who don?t know what langar is, It is Guru ka Prasad/Food which is served for free to all the visitors, from the community kitchen in Gurudwara. You can also enjoy hot water spring in gurudwara premises. After eating langar we had helped to clean the Gurudwara (This is the practice done daily to clean the gurudwara by the people residing).
Day 4: The day to say bye to kasol. I don?t want to leave the mesmerizing beauty and but unfortunately, we have to board our bus to Delhi and I gave the final gesture of love to kasol.
Tips
If you are not going in a group then book your tickets from HRCTC till bhuntar, change a cab from bhuntar to kasol. For Kheerganga/Khirganga you can ask a taxi to drop you till Barsheni. Avoid Trek at night and you will get ample of options at the peak so no need get a guide who will convince you that you will not get anything there you have to book it here (kasol) itself. You can email me in case you need any help.
The budget of the trip was 5500 per person including the stay, transport, three-time meals in a day and excluding the extra food and beverages purchased.
Here the journey ends and created a forever love to Travel in my heart.
Happy Traveling