Uttarakhand is one of my favorite and the easiest choice when I have to plan a trip of 3-4 days. 3 Days, usually I can afford when I travel every month.
Being easily reachable from Delhi ( Ya I belong here) Uttarakhand is something most crowded if you don't know some hidden gems ? here… Ya I m going to tell you one today… Be with me to read which is worth it
Last Year(2018) in the month of November, it has already started wintery here and was expecting more from mountains. Oh-Yes I love winters. I got an invite to review a property in Uttarakhand, and again it was mountains calling time. Without making any delay I said yes for the opportunity and packed the bags.
Kanatal – The Best Offbeat Place in Uttarakhand
Kanatal, a small and calm village in Uttarakhand. Approximately 38 km from Mussoorie via Dhanollti and one more route is connecting kanatal directly from Rishikesh.
And here the road trip begins, with lots of excitement packed. Hum Chal Pade…
After approx 8 hours of journey from Delhi-to-Kanatal, we reached there in the evening past 6. It was already dark and chilled. We took a halt in Dhanolti for a quick chai break. I took a step out of the vehicle and guess what came back inside running… Phewww it was really cold outside and the winds were passing through my veins. Loaded more clothes and courage to come out to sip hot tea with my favorite Maggi. Can feel the breeze making my skin numb, the sun is almost set. People were closing their shops and returning home. We were just half an hour away from our destination.
Journey Matters as much as The Destination
There were people waiting for us to guide the path "The Kanatal Orchids Camp". Friendly looking two guys welcomed us and showed the path to our camps. As it was night, the view was not clear the only thing I could see was the twinkling stars and lights glittering from a bunch of houses in Kanatal.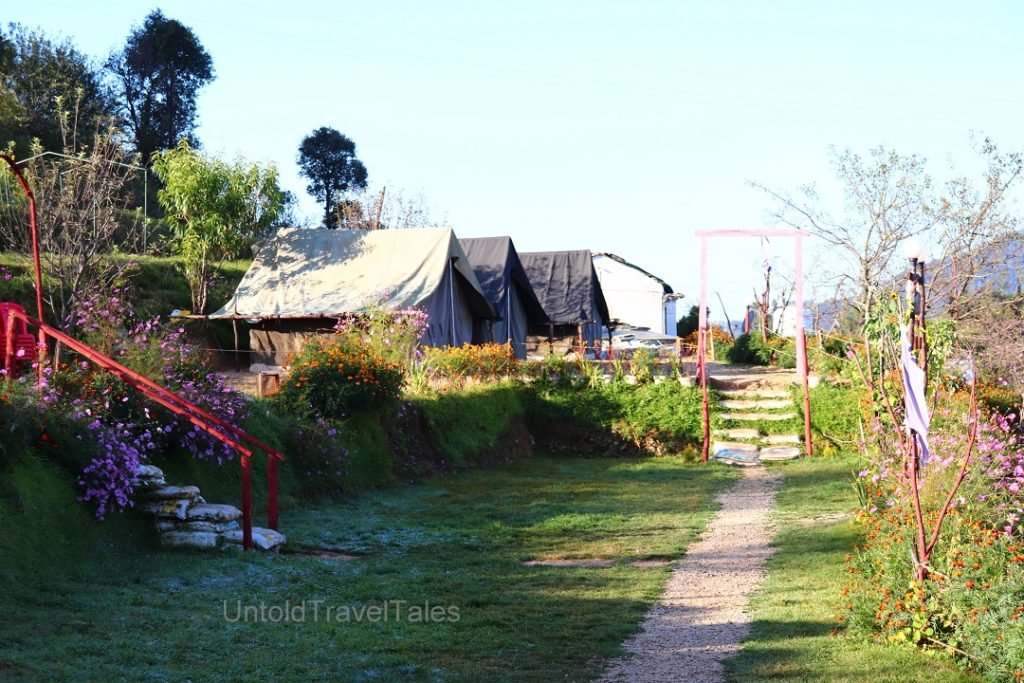 I was hell tired but yet ready to party. The bonfire was all set with some hot snacks and chai. After taking our tents, we rushed to the bonfire. This is the moment I love when in the mountains, enjoy bonfire under the sky of a thousand stars. That's how day 1 went. Met new people with different interest, some become friends and are still in touch.
First Morning at Camp Kanatal Orchids, wake up with the view of Himalayan Ranges sipping a hot cup of tea. Breakfast was ready on the bench before we asked for. A vibrating morning it was, flowers were in full bloom, sun shining at it's best and the flirty breeze playing with my hair flicks. Everything was looking best and amazing, feels like I could have spent my entire life there.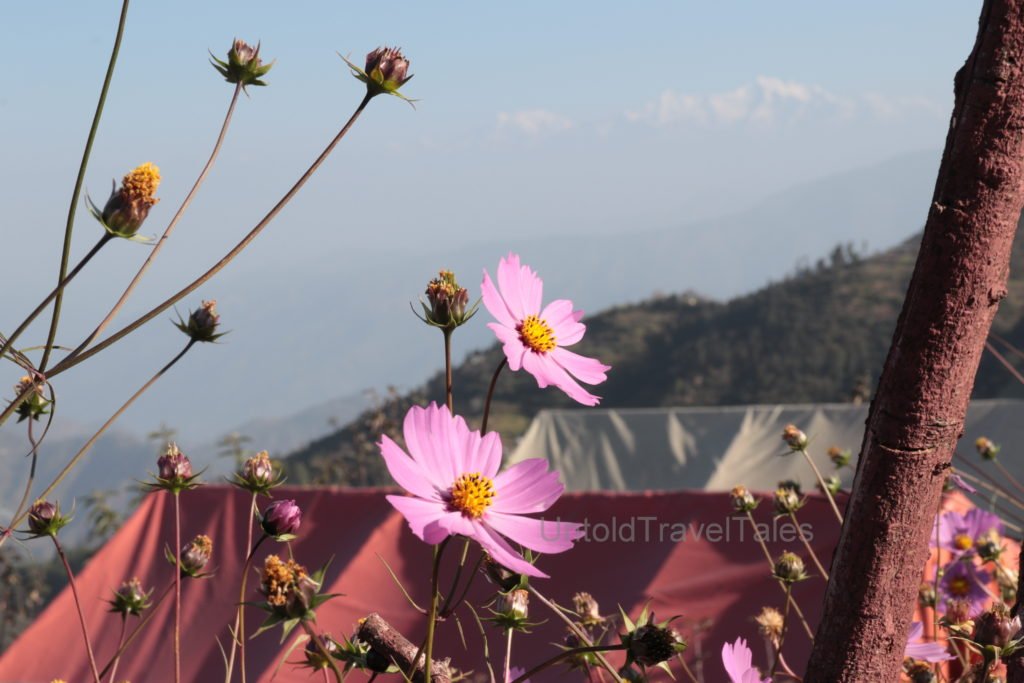 After having a delicious breakfast we went back to get ready for some activities organized by the Kanatal Orchids. Activities include sky bridge, rope walk and village walk to Surkunda Devi Temple. Seems like lot's of surprises were packed for us. Everything was so organized I was loving the way things were lined up for us. Each minute I spent there was fun and worth cherishing.
Things you can do in Kanatal
Jungle walk to Surkunda Devi Temple
Adventure Activities
A visit to village Champa and Tehri Dam
Enjoy water activities at Tehri Lake
Eco Park Dhanaulti
Camp Kanatal Orchids
A campsite in Kanatal, a neat property which gives breathtaking Himalayan Views. They have in total 15 swiss camps which can accommodate 4-5 people in each of the tents. Serve both veg and non-veg dishes in breakfast/lunch and dinner. Staff is super supportive. Each swiss camp is furnished with four single beds with attached bathrooms. Bon-Fire and Dj night has fixed timings which closes around 10:00 Pm. Space is covered with beautiful orchids and 360 mountain views. Camp Kanatal Orchids is one of the best places to stay in Kanatal if you are looking to make your visit happening.
There is no parking lot but as the caretaker suggested that it's a small village anyone can park a vehicle on the roadside of course keeping the space in mind.
Special Things about Kanatal you need to know
Well constructed village hence not crowded
Beautiful Green Boulevard for a drive
Himalayan View never forget to
After a Peaceful walk, sit roadside just to gaze some view.
There is definitely something magical about the mountains, glad I live near such divine beauties which are a few hours drive away. So if you are looking for a place to relax, Kanatal is the next good option to explore.
Must Read: Weekend Destinations Near Delhi
Have you been to Uttarakhand and know about offbeat place in Uttarakhand. Than comment the same below. We would love to hear back.